Royole Corp. announces they have successfully demonstrated the world's thinnest full-colour flexible display that has been integrated with a smartphone in July 2014. This flexible display can be easily bendable as well as rollable.
The thickness of the whole display is only about 0.01 mm (10 μm), which is less than one fifth the diameter of the human hair. The bending radius of this flexible display can be less than 1 mm, which is even thinner than a pen refill.
According to a published report from the company, this new display is ultra-flexible with demonstrated reliability. For example, while the bending radius of the display is smaller than the radius of a typical pen refill, it still has the capability to display high quality videos with brilliant and vivid colours.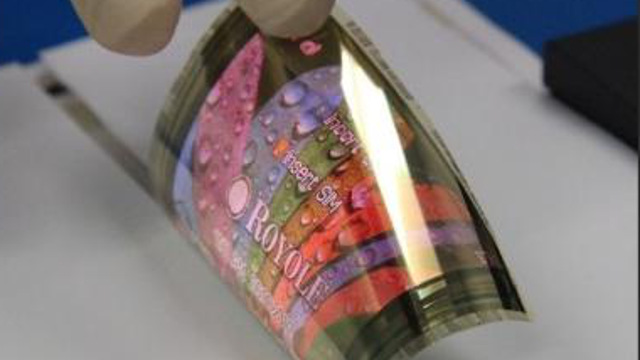 Figure: Royole Corp - Ultra thin flexible OLED display
With the world's thinnest bendable and rollable full-colour AM-OLED flexible display for smartphones as pioneered by Royole, the display industry revolution may be soon accelerated.
Royale said the design and fabrication of flexible displays are very challenging, and many aspects of manufacturing issues and problems need to be addressed, including materials, processing, semiconductor device structures, integrated circuits and system design, etc. Therefore, the design and manufacturing of flexible displays are far beyond simply changing the substrate type or only replacing the functional material in the traditional display.
To solve these challenges Royole has - over the past two years - accumulated hundreds of intellectual property rights including know-hows in technologies covering virtually all the aspects of display manufacturing such as materials, processing, devices, circuits, electronic system design, etc, which they have utilised in their recent breakthrough.
Royole Corp - Ultra thin flexible OLED display
Dr. Bill Liu, a Stanford graduate and the founder of Royole Corporation, said, "The newly developed full-color AMOLED flexible display is a significant improvement when compared with the thin flexible display backplane released one year ago by Royole, as it not only uses AMOLED as the front panel, but has also been successfully integrated with a fully-functional mobile platform. Royole has also reduced the overall display thickness by an order of magnitude, with the display thickness being as thin as an onion skin."
Flexible displays have many advantages, such as being ultra-thin, light weight, bendable, portable, shatter-proof, unbreakable, low energy, sleek design capability, etc. Compared with the traditional flat panel displays, flexible displays provide greater freedom for product design, as well as greatly improving the user's experience. Additionally, the application of novel processing technologies (printing or roll-to-roll) to fabricate the flexible display can largely reduce the cost of production.
It follows then that flexible AM-OLED display has been widely considered by the display industry as the next generation of information display technology, replacing CRT and LCD, and which has the potential to be applied in numerous areas such as novel smart phones, intelligent home systems, wearable electronic devices, etc. This will have an unprecedented impact in diverse visual experiences in our daily lives.
Source: Royole Corp.