Ardeje has announced its latest smart and flexible digital printing platform dedicated to R&D process developments and prototyping. The Origin D100 will be showcased at the forthcoming Inkjet Conference and Exhibition on 7th and 8th October 2015 taking place in Düsseldorf.
According to the company the Ardeje OriginD100 have been conceived with a total disruptive innovation approach, and has three key features:
A printer easy to operate:- the Ardeje OriginD100 is endowed of an ergonomic and intuitive software sheltered by a designed equipment conceived to facilitate Operators' manipulations thanks to advanced tools and automated functions
An innovative platform allowing unlimited printing strategies:- Ardeje OriginD100 integrates various industrial Drop-On-Demand (DOD) inkjet print heads enlarging capabilities for inks or functional materials jetting. This high accuracy printing equipment is designed to cover the widest possible range of process parameters including :

controls of print head setup and jetting parameters
print parameters and printing strategies : Single pass, multi pass, scanning printing
drying and curing modes

Qualified digital printing set-up ready to be implemented in an industrial production line: Ardeje OriginD100 is the most efficient tool towards industrialisation. Based on its own industrial drivers & components, scaling-up for industrial applications is efficient and reliable which reduces time to market.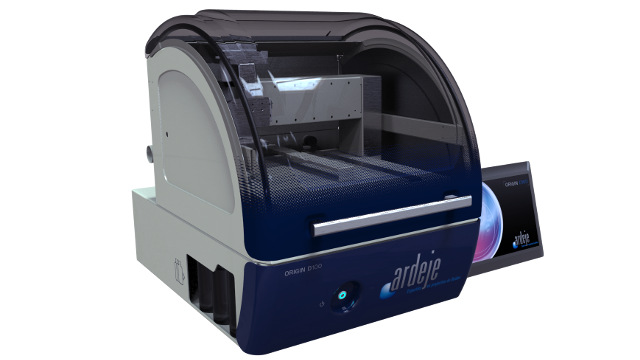 Figure: Ardeje - OriginD100 digital printer
Price starting from 37,500 euros.
From inks to functional material deposition, the Ardeje Origin D100 is suitable for print research, print quality management, process development and prototyping/low production volume for a wide range of applications for example - direct product decoration, material deposition, printed electronics or additive manufacturing.
Technical specifications
| | |
| --- | --- |
| Printheads | Various piezoelectric DOD technologies integrated in an inkjet printing module with easy and fast change with high accuracy |
| Inks and functional materials | Water-, solvent-, oil-based inks, UV-curable inks, UV-resins, organic or inorganic and hybrid materials, colloïdal solutions, Sol-gel * |
| Ink System | Easy and fast Ink cange / cleaning Low material consumption (down to 5 mL) Direct feed from syringe / Disposable reservoir (syringe type) |
| Mechanical axis resolution (X/Y) | Resolution : 0.5 μm / Repeatability : (+/-) 1 μm / Precision : (+/-) 20 μm |
| Printing Speed (Y) | up to 100 mm/s |
| Product size | up to 330 mm x 285 mm x 350 mm (X/Y/Z) * |
| Substrate holder | Mechanical indexes |
| Air system | Meniscus control / purge |
| HIM / Software | Integrated inkjet and motion control Pre-loaded recipes Printing Module configuration / Printing configuration settings saving Direct wide access to jetting and printing parameters (strategies, resolutions, ...) Tools for quick and easy nozzle check status control Advanced functions |
| Maintenance | Spitting, manual purge, capping, cleaning |
| Housing | Housing for dust protection and safety Air exhaust connection : Diam. 50 mm |
| Power Supply | Single phase, 100-240 VAC, 1000W, 50/60 Hz |
* dependent on printing module/selected options<