OLEDNet has published an article that states LG Electronics and LG Display have announced that they are planning to reveal OLED sculptures in various shapes such as a tunnel, waves, and/or a cylinder, and poitentiall other form factors using 250 - 55-inch OLED panels at North Seoul Tower in South Korea.
The sculptures will screen diverse content of artistic merit and aims to provide spectacle while advertising OLED's astonishing picture quality.This North Seoul Tower OLED sculpture installation is the second OLED signage that LG Electronics recently announced installation of a large area OLED signage at Incheon International Airport.
According to the news report LG Electronics is aiming to lead the OLED TV market through a two-prong strategy of OLED TV price reduction and OLED promotion. At the 2015-Q2 performance announcement, the company revealed their plan for marketing through an aggressive promotion of OLED displays. The successive OLED sculpture installation can be seen as a part of LG Electronics' OLED promotion strategy.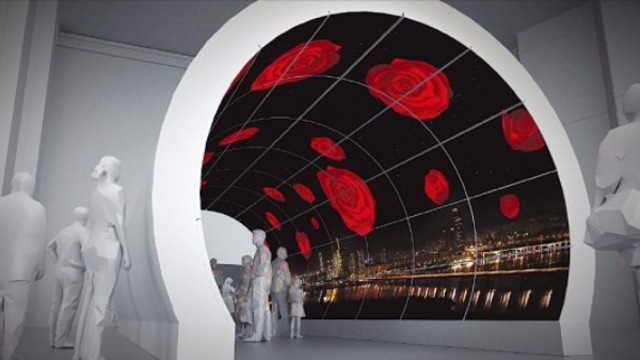 Figure: LG Display / LG Electronics - OLED Tunnel to be Installed in N Seoul Tower
The effectiveness of this stratgey can already be seen - LG electronics revealed that the October sales figure was 4,500 units which is more than twice the amount sold in the beginning of the year. At the same time, OLED TV is pricing continues to fall - for example a 55-inch UHD OLED TV was priced around US$ 3,000 on amazon.com in September and recently it was priced at around US$ 2,000.
With LG's aggressive OLED TV marketing and the increase of OLED TV selling companies, the industry's attention is on the future OLED TV market's growth. Industry analysts are forecasting OLED TV market to grow about 17 million units by2020.
Competition in this space is expected to increase as panel manufacturers such as Japan's Panasonic who recently revealed their plan to begin actively selling UHD OLED TV from 2016. As well as Chinese companies such as Skyworth, Changhong, Hisense, and Konka who have all shown their intentions to present or release OLED TV.