Prelonic has announced they have successfully printed EC displays directly onto cardboard packaging. According to Prelonic at the moment printed electronics is dominated by hybrid printed electronics with functionalities comparable to classical electronics. However, to enable mass applications simpler printed electronic devices will be required and will represent a major part of the market in the future.
Packaging, magazines and newspapers are classical printed products offering highest volumes but at the same time challenging cost requirements. Besides cheapest functional printing pastes those applications would not allow additional substrates and assembly effort. Therefore, if printed electronics is to be adopted they will have to use the substrates which are already there – the paper and cardboard the products are made of.
Dedicated technology and product developments are required to fulfil these market needs. prelonic believes their recent developments now address this requirement - a top-indicative electrochromic display (EC-display) - which can be printed on every non-transparent substrate, fully printed and very a a lower cost.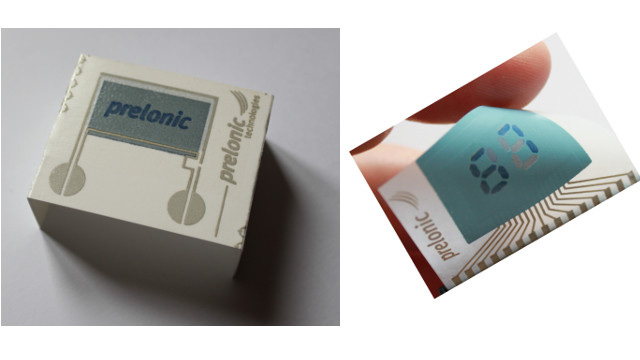 Figure: prelonic - Fully printable solid state EC displays – low cost and top-emission
Friedrich Eibensteiner, CEO of prelonic, said, "For the same reasons prelonic always focused to processes which need no clean room, we also target technologies which need no plastic substrates. And no additional substrate means also no additional assembly – that also reduces costs." Friedrich added, "Printed electronics has to move closer to the production reality. Printers, publishers and packaging producers don't want clean rooms, new substrates and new processes. They like to use their common technologies to utilize printed electronics. We have to offer such developments, like a paper display."
Newest development: Fully printable solid state EC display – low cost and top-indicative Left side: directly printed on cardboard Right side: two digit 7-segment display